All week
THE TIDAL THAMES: Photographer Nadav Kander has made the Thames Estuary the focus of his latest photographic series, capturing both its serene side and its crashing waves. Flowers East (Hoxton), free, just turn up, until 13 January
A PHOTOGRAPH: The large paintings by James White are so photo-real that many people walk away thinking they're photographs. It's an illusion that's only broken when you get right up to the works. Blain/Southern, free, just turn up, until 13 January
140 YEARS OF RECORDED SOUND: This wonderful installation really is a treasure trove of sound for all ages. There's nothing so personal and enchanting as 140 years of history reverberating in your eardrum. British Library, free, just turn up, until 13 May
MORE FREE ART: There's still time to get your culture fix at some of our favourite exhibitions from 2017 – all of which are free and run until late January/ February.
Monday 8 January
WOMEN AT WORK: Learn about the origins of women's work in industrial Enfield, plus see work produced by local people in response to this newly discovered history. The Dugdale Centre, free, just turn up, 10am-5pm, 8-20 January
DINO LIVE: Introduce brave little soldiers to the dinosaurs that walked the earth more than 65 million years ago, before settling down for dino-doodling activities. You can also have your photo taken hatching from an egg. Hall Place (Bexley), £5/£3, book ahead, until 4 February
SPARK OPEN MIC: What makes this open mic night special is that every story you'll hear is true and something the speaker has lived through. Hackney Picturehouse, £5, just turn up, 7.30pm
MONDAY NIGHT MUSIC: Spend Monday night listening to vintage jazz band The Shirt Tail Stompers in the beautifully fading grandeur of London's oldest music hall. Wilton's Music Hall, free, just turn up, 8pm-9.15pm
IMPROV COMEDY: When it comes to improv, things could go horribly wrong or rip-roaringly right. Luckily, Shoot From the Hip always falls into the latter. The Camden Head, free, just turn up, 8pm-10pm
Tuesday 9 January
NATURE CONSERVATION VOLUNTEERING: Roll up your sleeves, grab a shovel and get stuck into pruning and maintaining the greenery surrounding Tower Hamlets Cemetery. Wear your practical clothes and email ahead if it's your first time. Tower Hamlets Cemetery Park, free, just turn up, 9.30am-4pm
VOICES FROM FORTY HALL: Have you got fond memories of Forty Hall? Add them to this oral history project at this coffee and cake morning. Forty Hall Estate, free, book ahead, 10am-noon
TUESDAY TALK: Get your green fix and learn about the wonderful nature reserves of Harrow from Stephen Bolsover. Headstone Manor & Museum, free, just turn up, 2pm-3pm
THE COLD WAR: Learn all about the global legacy of the Cold War from history buffs Michael Cox and Arne Westad, who has just published a new book, The Cold War: A World History. The London School of Economics, free, just turn up, 6.30pm-8pm
Wednesday 10 January
WOODCUTS FROM WONDERLAND: Alice in Wonderland fans will fall in love with John Tenniel's original whimsical wood engravings for Lewis Carroll's enchanting stories, which are on display at Eames Fine Art. Free, just turn up, 11am-6pm, until 28 January
GARDEN YOUR WAY TO HEALTH: Nick Dobson discusses how gardening can be as good for you as going to the gym. Hall Place (Bexley), £4.20, book ahead, 2.30pm-4pm
WOMEN, PARLIAMENT & THE VOTE: Dr Mari Takayanagi of the Parliamentary Archives presents this illustrated talk on the Representation of the People's Act 1918, which gave equal voting rights to everyone over 30. City of Westminster Archives Centre, free, just turn up, 6pm-7pm
SCIENCE ON SCREEN: See Oscar-winning film The Imitation Game, about the genius computer scientist Alan Turing. Stick around for the post-film discussion with leading Francis Crick boffins. Francis Crick Institute, free, book ahead, 7pm-10.15pm
Thursday 11 January
PENGUIN PINATAS: Penguin Awareness Day is fast approaching (Saturday 20 January), so make sure you pencil in this penguin piñatas session to mark it. Drink, Shop & Do, free with a drink, just turn up, 6pm
SUFFRAGISTS TALK: Be inspired by the story of the suffragists' six week Great Pilgrimage to London in 1913, as told by Jane Robinson, within the context of the suffrage campaigns. This event marks a century since females over 21 got voting rights. LSE TW1.G.0.1, TOWER ONE, Clement's Inn, Holborn, free, just turn up, 6.30pm-8pm
SHORT CUTS LAUNCH: Fledgling filmmaker? Meet fellow film nerds and importantly, learn about mentorship opportunities, prizes and how to win £1,000 in funding from Shooting People at this Short Cuts launch party. Rich Mix, free, just turn up, 7pm-11.30pm
SPOKEN, NOT STIRRED: Bring your poems along to this friendly open mic night or just bask in some deliciously phrased sentences by headliner Celestina Rowaiye. Broadway Barking, £5, book ahead, 7.30pm-10pm
Friday 12 January
GIANTS - BODY OF WORK: If you were lucky enough to be in Rio de Janeiro during the 2016 Olympics, you probably saw artist JR's giant sculptures of athletes. Now you can see the prep work that went into the exhibition at this new Mayfair gallery. Lazinc, free, just turn up, 10am-6pm, until 28 February
FRIDAY LUNCH GIG: Bring your sandwiches and settle down in front of British folk and roots-inspired duo Honey & The Bear. It'll make a nice change from dining al desko. Royal Festival Hall, free, just turn up, 1pm
TALES FROM THE BRIDGE: Be transported to a rainforest, revisit musical treasures and experience rare recordings for the first time, as the British Library's entrance hall is filled with a soundscape originally played on the Millennium Bridge during the 2012 Olympics. British Library, free, just turn up, 5pm-6pm
Saturday 13 January
FAMILY DAY: Take part in a drop-in cyanotype workshop, experiment with pinhole techniques and visit a pop-up dark room at this family-friendly day of photography activities led by two artists. Whitechapel Gallery, free, book ahead, noon-4pm
ANCIENT EGYPT: The most irritating thing about museum visits is peering through fingerprint covered perspex but today the Petrie Museum is inviting you to get hands-on with its artefacts. Age 7+ welcome. The Petrie Museum of Egyptian Archaeology, free (first come first served), just turn up, 2pm-4pm
CRAFT LIFE: A regular free meet up of like-minded crafters at the very glam Saucer and Spritz. This month's taster craft is felt letters but you're welcome to bring your own craft to keep your hands busy. Saucer and Spritz (inside the Oasis store, 22 Tottenham Court Road), free, just turn up, 2.30pm-4.30pm
CHANI NICHOLAS: Find out how astrology enrich your life from Chani Nicholas, who aims to make the subject practical, approachable and useful. She'll be in conversation with artist Linda Stupart, whose far ranging work engages with queer theory, science fiction, environmental crises, magic, language, desire, and revenge. Somerset House, £5, book ahead, 5pm-7pm
Sunday 14 January
SUFFRAGETTE BROOCHES: Drop into this family-friendly session, where patriarchy-smashing toddlers can make their own suffragette campaign badges. Suitable for 5+. Headstone Manor & Museum (Harrow), free, just turn up, 11am-3pm
RIVER THAMES BLESSING: Did you know every year people gather on London Bridge to bless the Thames? Join the ceremony today to see a blessing of the River Thames and those who live on, work or use it. London Bridge, free, just turn up, 12.30pm
Fun things to do with our friends and sponsor Funzing...
London is a city of incredible transformation. With structural remains that date back to ancient history still in existence, this unique walking tour takes in Lost London in all its former glory. From the Titanic booking office to the graveyards of man's best friend, you'll discover the weird and wonderful places that used to exist in the capital but are now only committed to memory. Using old photographs, newspaper cuttings and stories from the past, you'll be amazed at what has largely been written out of our history books... Get tickets
Take to the waters and glide about in this beginner paddleboarding session. By the end of it, you'll be standing up and paddling solo, and there's plenty of help on hand to improve your technique. Change of clothes required. Get tickets
Whether you're a pre-grated cheddar sprinkler or mimolette fan, this cheesy walking tour will delight your senses. Starting off at a cheese counter in Mayfair that has been serving for more than 300 years, you'll tour the city's best dairy delights - including Fortnum & Mason, where the royals get their fix. Get tickets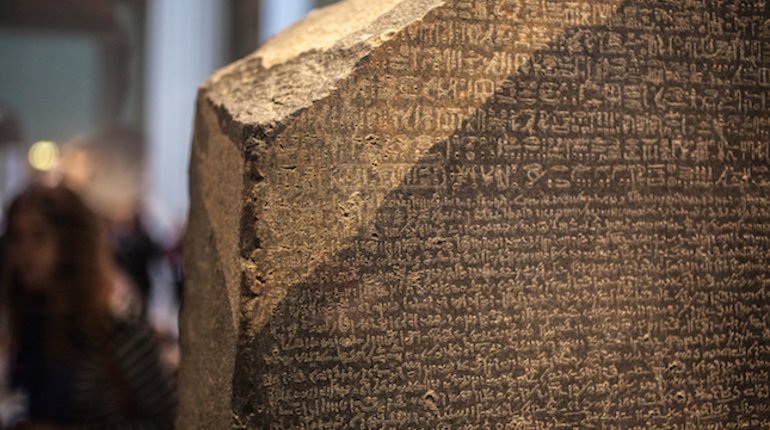 Track the journey of humanity through this tour around the British Museum. The tour aims to help you understand why the world is the way it is, and show how humans learned to question absolutely everything. Get tickets