All week
ICE SKATING: What better way to shake off a fuzzy head than by going ice skating? Twinkly lights, elegant gliding — it'll have you feeling right as rain quick-sharp. London's seasonal ice rinks are mostly open into the new year.
PETER PAN: This family-friendly classic has been given a pop music twist. Featuring songs by The Beatles performed by seven actor/musicians, it's a treat for the ears and the eyes. Pleasance Theatre (Islington), various prices, book ahead, 1.30pm, 4pm and 7.30pm, until 7 January
BASIC INSTINCTS: Marvel at the paintings of artist and governor of London's Foundling Hospital Joseph Highmore (1692-1780), which offer us a window into the lives of desperate and often abused women in Georgian society. The Foundling Museum, £11/£8.25, book ahead, until 7 January
LEICESTER SQUARE: The chilly, skint month of January is upon us so we don't blame you for clinging on to Christmas. There's still time to explore Leicester Square's festive market and maybe even catch a burlesque show (£22, book ahead, until 5 January) while you're there. Leicester Square, free, just turn up, until 8 January
RAPUNZEL: Puns abound, but no cliches can be found in this magical theatre performance of Rapunzel. It's invigoratingly fantastical yet never absurd. Read the rest of our four star review here. Theatre Royal Stratford East, £10-£32, book ahead, until 13 January
CINDERELLA: Matthew Bourne yet again sprinkles a touch of festive magic with his latest fairy tale adaptation of Cinderella that places its attention on London's glamorous underbelly during the second world war. Read the rest of our four-star review here. Sadler's Wells (Clerkenwell), various prices, book ahead, until 27 January
Monday 1 January
NYD BLOOMSBURY WALK: Join this walk taking in characters, playgrounds and gardens which have been lost and found, including Peter Pan and his lost boys, Captain Coram and his foundlings and Jane Austen. The fresh air might do wonders for your hangover. Russell Square tube station, £12/£10, book ahead, 11am-12.30pm
PRINTWORKS NYD: Let's face it, New Year's Eve can be overrated and underwhelming. New Year's Day, however, presents fresh opportunities for fun. Dubstep devotees should check out the lineup of DJs spinning tunes all day at the gigantic club venue Printworks. £44-£46.80, book ahead, 1pm-10pm
NEW YEAR'S DAY GALA: Start 2018 with a bit of culture, listening to classical works such as Rossini's William Tell Overture, Puccini's Nessun Dorma and Holst's Jupiter at Barbican's New Year's Day Gala. £19.50-£44.50, book ahead, 2.30pm
MAGIC LANTERN FESTIVAL: Today is your last chance to feast your eyes on the colourful, glowing installations illuminating Chiswick House & Gardens. £5.50-£18.50, book ahead, entry 5pm-8.45pm
Tuesday 2 January
LAST CHANCE: Make your way to Kew Gardens for morning storytime session, winter flower making, or brush up on your nature knowledge on a group tour of the Davies Alpine House. Today's your last chance to check out Kew's winter programme. Hurrah for the arrival of Spring. Kew Gardens, £13, book ahead, 10am-3.30pm, until 2 January
JOSEPH MORPURGO: Better snap up tickets for this monstrously funny, multimedia comedy performance from Joseph Morpurgo before they go. Read our four-star review of Hammerhead. Soho Theatre, from £9, book ahead, until 6 January
WATER POET SALE: Forget January sales, we're all about January happy hours. Thank goodness, then, for The Water Poet, which is slashing its drinks prices between 5pm-7pm throughout January. And you'll be pleased to hear its pretty fairy-lit strewn garden has heaters. The Water Poet, various prices, Monday-Friday, 5pm-7pm, until 31 January
LIVE MUSIC: This European brasserie was quite the party spot back in its 1920s heyday and still manages to pull a well-dressed crowd, especially when there's late-night entertainment from The Bury St Belles, the venue's resident jazz, blues and swing trio. Quaglino's, free entry, just turn up, 9pm
Wednesday 3 January
IMMERSIVE MYSTERY GAME: Bring six Sherlock-mad friends to this immersive theatre escape room-style game set in a Victorian pumping house, where you must solve the mystery of the missing apprentice. The London Museum of Water and Steam (Brentford), £28 (includes high tea), book ahead, 7.15pm-10pm, 3-5 January
SECRET VARIETY CLUB: This now not-so-secret variety night features Elf Lyons, Pat Cahill, Adam Larter and more, with accolades that stretch from Edinburgh Festival nominations to rave reviews from Chortle. Aces & Eights, £3.30, book ahead, 7.30pm
ACOUSTIC SESSIONS: Need some downtime after the festivities? Get your chill on at this night of West Coast folk, country and blues from three live musicians. The Half Moon Putney, £10/£8, booking recommended, 8pm-11.30pm
Thursday 4 January
I AM NOT YOUR NEGRO: Watch this powerful and radical documentary about racial tensions in America from filmmaker Raoul Peck, which transports us from the Civil Rights Movement to the present day #BlackLivesMatter campaign. Dugdale Centre (Enfield), £6.50, book ahead, 7.45pm-10.30pm
CLAPHAM COMEDY CLUB: See world-class comedy in the kind of venue where you don't need binoculars to see the act, and a round won't empty your bank account. Tonight the line up includes Chris Martin, Nathan Cassidy and Chelsea Hart among others. The Bread and Roses Theatre (Clapham Common), £8, book ahead, 8.30pm- 11pm
Friday 5 January
CRIME SCENE LIVE: Live out all your CSI career dreams in the stunning surrounds of the Natural History Museum, where a pricey stone has been stolen and a killer is on the run. After a welcome drink, you must play detective to bring the criminal to justice. Natural History Museum, £60, book ahead, 6.30pm-10.30pm
POETRY: Poets Julia Bird and Mike Sims are inviting you to toast the last of the twelve days of Christmas with seasonal tipples, Georgian games, readings of Keats's poems and letters and a Twelfth Night cake if you get peckish. Keats House, £10, book ahead, 7pm-8.30pm
FLOATING COMEDY CLUB: If there's one thing we need in this — the most depressing of months — it's more laughs. Enter The Boat Show Comedy Club, where four top comics will have you in fits of giggles. If you want to continue drowning your sorrows, your ticket includes entrance to Popworld Nightclub on-board the Tattershall Castle. Bottoms up! R.S. Hispaniola/ Tattershall Castle (Victoria Embankment), £11-£16.50, book ahead, 8pm-11pm
Saturday 6 January
GOSPEL WORKOUT: Get sweaty and feel uplifted at this Boxercise Hiit Aerobics session, which will have you singing Hallelujah (and not just cause the bench presses are finished). Takes place on the first Saturday of every month. YMCA Gym (Tottenham Court Road), £12, book ahead, 10am-11am, until Sunday 3 June
CITY PAWS CLUB: Help transform the drab area around this daycare centre into a luscious haven for people and dogs alike. You can choose to sponsor a tree or plant one yourself for £10. (£5 goes to the Woodland Trust and £5 goes to the charity Pets As Therapy). 42 Lower Richmond Road, £10, book ahead, 11am-2m, every Saturday until 24 November
DIDGERIDOO MAKING: Learn about aboriginal dot patterns, make your own version of the instrument and attempt to get a note out of it at this didgeridoo making workshop. Cutty Sark, free with admission, 11.30am-1.30pm and 2pm-4pm, repeated tomorrow
VOICE WORKSHOP: Ever wished your voice could have listeners hooked on your every word like David Attenborough? Join voice coach Giles Abbott for a workshop, which will leave your voice as supple and compelling as Barry White beckoning a kitten. The Book Club (Shoreditch), £30, book ahead, 6pm-9pm
Sunday 7 January
WINTER 10K SERIES: Every first Sunday of the month Greenwich will be a flash of lycra, trainers and sweaty faces as red-faced runners embark on two laps of the park. The first five speediest male and female runners will bag themselves a medal. Greenwich Park, £18, book ahead, 9.30am
VEGAN MARKET: Bag up vegan treats before quenching your thirst at Wild Card Brewery. Wild Card Brewery Lockwood, Unit 2, Lockwood Way, (Walthamstow), free, just turn up, First Sunday of every month, 11am-4pm
BIG LONDON FLEA: Longing for an interior straight off a retro Pinterest board? Bring bags and cash to this market dedicated to all things salvaged. Expect furniture, homewares, vintage attire, industrial electricals, lighting and unexpected oddities from more than 50 handpicked traders. Epic Dalston, free entry, just turn up, 11am-6pm
TRAFALGAR TRAVESTY: It's a meeting point for tourists, a toilet for pigeons and it's adorned by three of the most unpopular British kings. Join this one-hour tour around Trafalgar Square for a tongue-in-cheek history lesson you'll love. All proceeds will go to the Connection at St Martin-in-the-Fields. Charing Cross Station, £10/£7, book ahead, 2pm
Fun things to do with our friends and sponsor Funzing...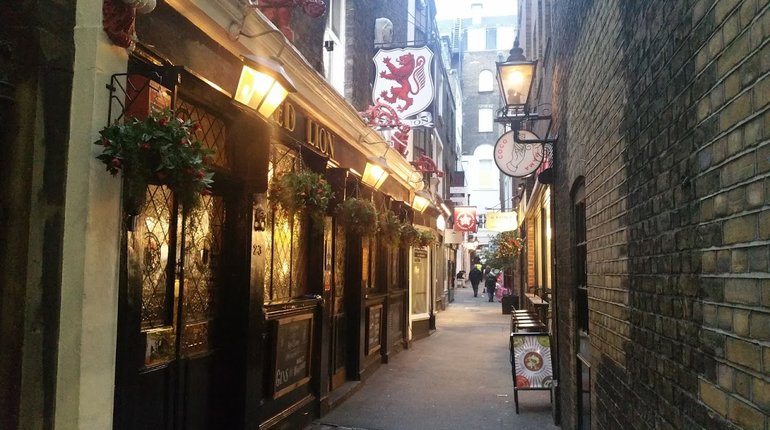 London is a city of incredible transformation. With structural remains that date back to ancient history still in existence, this unique walking tour takes in Lost London in all its former glory. From the Titanic booking office to the graveyards of man's best friend, you'll discover the weird and wonderful places that used to exist in the capital but are now only committed to memory. Using old photographs, newspaper cuttings and stories from the past, you'll be amazed at what has largely been written out of our history books... Get tickets
Whether you're a pre-grated cheddar sprinkler or mimolette fan, this cheesy walking tour will delight your senses. Starting off at a cheese counter in Mayfair that has been serving for more than 300 years, you'll tour the city's best dairy delights - including Fortnum & Mason, where the royals get their fix. Get tickets
Track the journey of humanity through this tour around the British Museum. The tour aims to help you understand why the world is the way it is, and show how humans learned to question absolutely everything. Get tickets
Take to the waters and glide about in this beginner paddleboarding session. By the end of it, you'll be standing up and paddling solo, and there's plenty of help on hand to improve your technique. Change of clothes required. Get tickets