Things to do this week is sponsored by Hampton Court Palace.
All week
PECKHAM LEVELS: Peckham Levels was born out of a desire to turn an under-used space into something local people could use to work, grow and enjoy. Take a look around this car park-cum-creative hub, grab lunch from an independent food trader and even get your haircut. Peckham Levels, free, just turn up, ongoing
MONTAGUE SKI LODGE: Cosy up in an alpine ski lodge, complete with fairy-lit covered pine trees, ski racks, falling snow (of the fake variety) and a fully stocked bar serving mulled wine, spiced cider and other hot toddies. The Montague on the Gardens (Bloomsbury), £35, book ahead, 1pm-9pm, until 20 January
BANANAMAN: What's striking about Bananaman is how the cast are determined to make sure you'll have a good time with this incredibly silly, side-splittingly funny show. No joke is too old and no gag is overlooked. Southwark Playhouse, £20-25, book ahead, until 20 January 2018.
QUENTIN BLAKE: Admire the charming drawings of Quentin Blake and John Yeoman, who have worked together on many books. The exhibition includes Blake's very first illustrations for children's literature. House of Illustration, various prices, until 4 March
AGE OF TERROR: One of our top exhibitions of 2017, this is one of the most important shows you'll see this year and it shows that art can be political, powerful and relevant. IWM London, £15, book ahead, until 28 May 2018
Monday 15 January
MAKE COPY GREAT AGAIN: With pictures, videos and memes flooding social media, the importance of great copy seems greatly diminished. In this workshop, you'll work in a group to produce a campaign where compelling copy is key. Museum of Brands, £37.42, book ahead, 6.30pm-9pm
CASSIA STRING QUARTET: Hear the work of Czech composer Gideon Klein, who was persecuted by the Nazis and deported to the Terezín concentration camp during World War II, alongside Mozart's String Quartet in D Minor and String Quartet no. 3 by Pavel Fischer. The British Library, £10/£7, book ahead, 8pm-9.30pm
CALM DOWN DEAR: If you're sick of hearing that phrase then you'll adore this sass-filled feminist theatre festival headlined by Racheal Ofori's So Many Reasons. This year, the festival's fifth turns the spotlight on artists of colour. Camden People's Theatre, various prices, book ahead, 15 January- 4 February
Tuesday 16 January
FIRST AMONG EQUALS: See the Foundling Museum's collection through the eyes of successful women. People who have picked out objects include Maria Balshaw (first female Director of Tate), Moira Cameron (first female 'Beefeater', Yeoman Warder of the Tower of London) and Francesca Hayward (first black female principal dancer at the Royal Ballet). Foundling Museum, £11, book ahead, until 13 January 2019
SODA SESSIONS: After a school night-friendly shindig to satisfy your craving for company but not break your Dry January promise? At these Tuesday night soda sessions, you can sip mocktails, eat by-the-slice pizza and dance to 90s hip hop — all without fear of the next-day hangover. Nine Lives (London Bridge), free, just turn up, 5pm-late
AUSTEN THE MUSICAL: Austen fans are gifted a new take on the author's life in the form of a musical from award-winning playwright and BBC Radio 2 Golden Oldie Nominee, Rob Winlow. Bread and Roses Theatre, £16/£14 conc, book ahead, 7.30pm-9pm, until 20 January
---
Sponsor
Step back in time at Hampton Court Palace for half-price this winter
A mere 35 minutes from Waterloo stands the most authentic Tudor experience in the world: Hampton Court Palace. Once home to Henry VIII, his wives and children, this majestic royal palace is a treasure trove of curiosities, which everyone should visit at least once.
The palace is steeped in history, including a magnificent art collection in the Cumberland Art Gallery, and the wonderful state apartments and grand staircases. Plus, there's Christopher Wren's iconic baroque addition to the building, which is famed for its spectacular views. There's plenty to explore outside of the palace too, with more than 750 acres of stunning parkland, featuring the world's oldest puzzle maze, a record-breaking grapevine and a huge variety of wildlife.
Fancy turning back the clocks and exploring this piece of Tudor heritage? This winter, visitors can enjoy half-price entry when booking tickets to Hampton Court Palace online, making this a great value day out for all the family. The offer is valid for visits until 9 February 2018.
Click here to find out more, and to view terms and conditions.
---
Wednesday 17 January
SOUNDSTAGE: The Soundstage sees high profile figures from film, music and TV interviewed in a relaxed setting. Tonight hear stories from art director Kevin Jenkins (whose accolades stretch from Star Wars to Gauardians of the Galaxy) and comedian and actor Simon Day. The Others (Stoke Newington), £15, book ahead, 7pm-10pm
CAUGHT BY THE RIVER: The social club for cultural butterflies is back with a special edition dedicated to the river Mersey and Liverpool. Expect interesting chat, a curated Mersey-inspired playlist and film screenings. The Social (Oxford Circus), £7, book ahead, 7pm-11pm
BATTLE OF THE BANDS: Want to know what experimental classical music sounds like? Show up to this competition searching for the best up and coming talent in the alternative-classical scene. The Victoria (Dalston), £8, book ahead, 8pm-11.45pm
LONDON ART FAIR: Catch works by monumental figures such as Joan Miro, Andy Warhol, Henry Moore, Banksy and Grayson Perry alongside local artists such as Accumulate, a Hackney charity putting cameras into the hands of homeless people at the 30th edition of this art fair. Business Design Centre, £16, book ahead, until 21 January
Thursday 18 January
MOTHER TONGUES: The first of a series of English Pen events examines how being multilingual shapes identity and the creative process. Award-winning poet Vahni Capildeo and author Burhan Sönmez discuss the influence of their mother tongues on their life and work. Waterstones Gower Street, £6/£4 conc, book ahead, 6.30pm-8pm
WORLD'S BEST MARTINI CHALLENGE: Got a thing for gin? Hear from expert gin makers, see the maker of 2018's best martini crowned and most importantly, sip a sample martini from each of the contenders paired with luxury canapes. Oslo (Hackney), £15, book ahead, 6.30pm-11pm
THE SCIENCE OF CHOICE: From your office-ready outfit to your evening meal, we make decisions all the time and tonight Chia-Jung Tsay, Suzy Moat and Peter Ayton unpack the science behind the choices we make. The Royal Institution, £16, book ahead, 7pm-8.15pm
FEATURED IN: 15: This female-centric night sees artists, explores and cultural curators share powerful, personal stories in 15 minutes. Hear about a battle with cancer, the charity tackling period poverty, a women's swimming collective and more. The Signal Pub, (Forest Hill), £10, book ahead, 7pm-11pm
Friday 19 January
MODEL ENGINEERING EXHIBITION: Join 14,000 model tinkerers at Ally Pally for one of the UK's leading model shows. More than 50 clubs and societies will be showing off everything from steam locomotives to modern gadgets. Alexandra Palace, £12, book ahead, 19-21 January
THE LOST WORD: How crazy is this? Back in 2002, a survey found that British schoolchildren were able to identify Pokémon far more accurately than common UK wildlife. This exhibition of animal illustrations and nature-inspired poetry hopes to rectify the results of that sad survey. Foundling Museum, £11/£8.25 conc, just turn up, 19 January-6 May
PLANET PLAY: Bring fidgety babies and toddlers to this morning playgroup, where they are encouraged to explore the world around them through song, music, movement and lots of fun sensory stuff. Chickenshed Theatre (Southgate), £6, book ahead, 10am-10.45am, every Friday until 9 March
ETHOMETRIC MUSEUM: Be transported into a parallel universe of cosmic tones and esoteric technology at this intriguing pop-up museum, filled with hand-crafted contraptions that create a mesmerising immersive soundscape. Ugly Duck (London Bridge), £12, book ahead, 19-21 January
DANGEROUS DATING: Unleash your inner lumberjack (with guidance from an instructor) at this social event for singletons, because nothing says romance like a spot of axe throwing... Sign up here for access to more unusual events. Whistlepunks (Vauxhall), £35, book ahead, 7.15pm-10pm
Saturday 20 January
SATURDAY SHED: A fun, relaxed workshop for kids of all abilities to build confidence through movement, drama, singing and story making. Suitable for ages 5-12. Chickenshed Theatre (Southgate), £6, book ahead, 10am-11am and 11.15am-12.15pm, every Saturday until 10 March
DRAWN TO THE SKYLINE: Head up to the viewing gallery at Tate Modern to sketch the London skyline. After you've taken in the 360 degree views you'll head into the City, drawing as you go. Tate Modern, £46.67, book ahead, 10.30am-1pm
ARTROOMS ART FAIR: Now in its fourth year, Artrooms sees the rooms of a hotel filled with the work of independent artists from all over the world. Melia White House Hotel, £15, book ahead, noon-7pm, 20-22 January
DESIGNED BY KIDS: What kind of night would a group of kids make for adults if they had complete control? That's the premise of this club night featuring a lego building challenge, face painting and a glitter station, naturally. This event is fundraising for The Droves; Coney's latest project with 7-11 year olds. COLAB Factory (Borough), £27, book ahead, 10pm-2am
CRAFT BEER RUN: Take part in a chilled 8km run around the East End, where the pitstops aren't park benches but London breweries. Because you'll want to balance out all that exercise with booze. Old Truman Brewery, £35, book ahead, various dates until 28 July
JULIUS CAESAR: Head to this brand new theatre for a chance to be a part of the action. Opt to stand among the street party crowd that greets Caesar's triumphant return to Rome or choose comfort over immersion by sitting in-the-round. The Bridge Theatre, £15-£65, book ahead, 20 January-15 April
Sunday 21 January
DIY PUPPET DISCO: Get stuck into newspaper puppet making in this fun workshop, suitable for ages 5+ and parents. In the second half of the class, you'll teach your handiwork to move, shake and boogie to music. Little Angel Studios (Islington), £10/£8 child, book ahead, various times
EXPLORING THE URBAN FOREST: London Street Trees author, Paul Wood, leads this tour around SE15, pointing out golden false acacias and 'bastard service tree' along the way. Peckham Rye, £19.02, book ahead, 10.30am-12.30pm
SEEN ON SCREEN: Want to shake it like Bey? Try out a dance class at this Seen on Screen open day, led by professionals who have even appeared in Rhianna's music videos. Glass Hill Studios, £5 per class, or £20 day pass, book ahead, 11am-4.15pm
TSE TSE FLY MIDDLE EAST: Spend your evening watching short experimental films followed by live eclectic music performances. The event supports five charities/organisations including Womankind Worldwide (workers' rights) and FORWARD UK (FGM in Africa and the diaspora). The Others (Stoke Newington), £10/£7adv, book ahead, 7pm-midnight
Fun things to do with our friends and sponsor Funzing...
London is a city of incredible transformation. With structural remains that date back to ancient history still in existence, this unique walking tour takes in Lost London in all its former glory. From the Titanic booking office to the graveyards of man's best friend, you'll discover the weird and wonderful places that used to exist in the capital but are now only committed to memory. Using old photographs, newspaper cuttings and stories from the past, you'll be amazed at what has largely been written out of our history books... Get tickets
Take to the waters and glide about in this beginner paddleboarding session. By the end of it, you'll be standing up and paddling solo, and there's plenty of help on hand to improve your technique. Change of clothes required. Get tickets
Whether you're a pre-grated cheddar sprinkler or mimolette fan, this cheesy walking tour will delight your senses. Starting off at a cheese counter in Mayfair that has been serving for more than 300 years, you'll tour the city's best dairy delights - including Fortnum & Mason, where the royals get their fix. Get tickets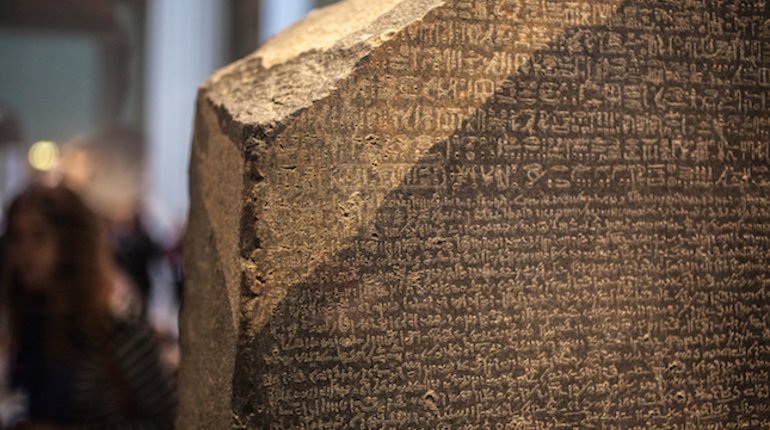 Track the journey of humanity through this tour around the British Museum. The tour aims to help you understand why the world is the way it is, and show how humans learned to question absolutely everything. Get tickets