Things to do this week is sponsored by Chivas Regal.
All week
BFI FILM FESTIVAL: Whether you're into Iranian films, LGBT cinema, documentaries or experimental films, there's something at the 61st BFI London Film Festival to suit all cinematic tastes. Various venues and prices, book ahead, until 15 October
ART AND WELLBEING: This exhibition highlights the good work the Ben Uri Gallery is doing with older people in care settings, and those living with dementia. Ben Uri Gallery, free entry, just turn up, until 15 October
JUMP OUT OF SKIN: A poetic, funny, hopeful and desperate new play from Slovakian writer Zuza Ferenczova about the struggle of being a teenager, something we can all relate to. Pleasance Theatre,  £10, book ahead, until 15 October
NECROPOLIS RAILWAY: It's full scream ahead at the London Dungeon, which has resurrected the train line that used to carry corpses out of the city, just in time for Halloween. Spooky stuff. The London Dungeon, from £21, book ahead, until 5 November
Monday 9 October
TANGO FEVER: Tame those two left feet at I Love Mondays informal Tango dance classes. Choose the class that suits your ability or turn up for the open dancing session at 9pm. St Aloysius Social Club (Euston), £5/£10/£12, just turn up, 7pm-11.30pm
SCIENCE TALK: Everyone's got an opinion on whether we should be tampering with genes. Hear a talk on the science and ethics behind the practice with leading geneticists. Royal Institution, London, £16, book ahead, 7pm-8.30pm
BABYBOOMER PROJECT: Calling all baby boomers; The Space wants you and your tales of surviving the sixties for a theatre project pairing over 50s with young people, to share and celebrate their differences and similarities. Chickenshed Theatre, £45, book ahead, 7pm-9pm
LIFE ON MARS: Get on your glad rags and shimmy on over to the Jazz Cafe, where musicians are paying tribute to everyone's favourite space oddity, David Bowie. Jazz Cafe (Camden), £12, book ahead, 7pm-11pm
LAUGH OUT LONDON: The last few years have seen the whole comedy world fall in love with Spencer Jones and his alter-ego The Herbert. Will you join them? The Old Queen's Head, £5/£7, book ahead, 8pm
Tuesday 10 October
SUFFRAGETTE WALK: On this day in 1903, the Women's Social and Political Union was founded. Join this suffragette walking tour to mark the anniversary and help fundraise for a statue of leading suffragette Annie Kenney. St James Park Tube Station, £15, book ahead via mo@londonsights.org.uk, 6pm
ADA LOVELACE DAY: Get your geek on with some of the UK's brainiest women in STEM who are celebrating Ada Lovelace Day Live! with an evening of cabaret, comedy and science. The Royal Institution of Great Britain, £20, book ahead, 7.30pm-9.30pm
PEN PRIZE: Michael Longley has been awarded the PEN Pinter Prize 2017. Hear the work that won him the award at this special event hosted by English PEN. The British Library, £12, book ahead, 7pm-8.30pm
THE CASTLE: Ever wondered what utopia (or dystopia) would ensue if the roles were reversed and women were in charge? Find out in Howard Barker's brutally funny and hopelessly tragic modern classic The Castle. The Space, £12, book ahead, 7.30pm-9:30pm, until 28 October
LIT SALON: Hear from great women doing great things to shape the conversation about gender in the workplace at this autumn's 4th Estate Literary Salon. The Book Club (Shoreditch), £8.03, book ahead, 7pm-10pm
AUTUMN LECTURE: Lucky enough to have a garden and interested in landscape design? Hit up the Garden Museum's series of lectures on the theme of collaboration. The Garden Museum, £25, book ahead, 7pm-8.30pm, every Tuesday until Tuesday 31 October
---
Sponsor message
Create your own personalised whisky blend with Chivas Regal
Whether you're a whisky aficionado, a lover of great cocktails or simply enjoy a little experimentation when it comes to your booze, we reckon you'll enjoy this whisky blending masterclass, thrown by the Chivas Regal whisky experts.
During the 45 minute session at trendy new Bethnal Green bar The Blend, you'll taste both grain and a selection of single malt whiskies, before having a go at creating your own blend of whisky. Once you've mastered your mix, bottle it, name it, and take it home to brag about it.
The Art of Blending takes place at The Blend, an exclusive bar by Chivas Regal, 133 Bethnal Green Road, E2 7DG. Sessions run every Wednesday-Sunday (2 October- 3 December). Also, why not stop by and enjoy some evening cocktails in the bar?
---
Wednesday 11 October
EAST END BACK PASSAGES: Join this jigsaw of East End tales threaded together by authors, historians and local people. Ten storytellers. An audience divided into small groups. A bell rings every five minutes and you move onto the next table to hear another true tale. Bishopsgate Institute, £7/£11, book ahead, 7.30pm
KNITTING & STITCHING: Got a passion for craft? Don't miss the UK's biggest textile art, craft and design event at Ally Pally. Stock up on supplies, and get inspired or learn new skills at workshops and talks. Alexandra Palace, £15, book ahead, 10am-5.30pm, until Sunday 15 October
LAUGH TILL IT HURTS: Pithy gags are the order of the day at this comedy gig in aid of Save The Children. Line up includes Joe Wilkinson and Ed Gamble. Leicester Square Theatre, £15, book ahead, 7pm-9.15 pm
COMEDY: Every month, some of the country's best comedians come together for a high-quality, mid-week blow-out. Tonight two-time Edinburgh Comedy Award nominee Nish Kumar is headlining. 100 Club, £12, book ahead, 8pm
Thursday 12 October
BUY BRITISH DAY: Britain is well and truly open for business, whatever the news says. Here's your chance to support British brands and skilled makers, by buying products including clothing, leather goods and jewellery directly. Truman Brewery, free, just turn up, 10am-7pm, until 13 October
TO FINALLY FEEL: An important new play exploring the lives of young transgender people and their coming-out experiences. The Lion and Unicorn Theatre, £7, book ahead, 7.30pm, until 13 October
INSPIRALLONDON FEST: If there was ever a festival to inspire your brain and body, it's InspiralLondon, a 300-mile long trail made up of 36 segments spiralling out from the centre of London, which is traversed by artists, geographers and walkers alike. London and Kent, various venues, £5, book ahead, until 15 October
Friday 13 October
DICKENS & HYPNOTISM: Aside from frequenting nearly every pub in London, Dickens had a life long fascination with hypnotism. Wendy Moore tells this little known story. Charles Dickens Museum, £7, book ahead, 6.30pm
FRIDAY LATE: Here come the (poster) girls in this Friday late which celebrates a century of women in art and design. London Transport Museum, £15, book ahead, 6.45pm-10pm
SWINGING LONDON: Take a trip back into the groovy 1960s with Harriet Vyner, Keiron Pim and John Pearse, followed by a screening of legendary cult swinging London classic, Moviemakers. The Horse Hospital, £8.80, book ahead, 7pm
OFF WITH HER HEAD: It wasn't all tea parties and croquet; Professor Dame Gillian Beer explores violence in the works of Lewis Carroll in this talk. The Art Workers Guild, £10, book ahead, 7pm
Saturday 14 October
CYCLE SURGERY: In need of a two wheel upgrade? Go to Lee Valley Velo Park to test out the world's best bikes on one of London's coolest cycle circuits. Queen Elizabeth Olympic Park, £10, book ahead, 9.30am-4.30pm
HIP HOP BRUNCH: Start the weeekend as you mean to go on, with a hip-hop based, brunch party topped off with karaoke, which you'll be well up for once you've had your fill of bottomless cocktails. Secret location, £25, book ahead, noon-5pm
FESTIFEEL: Spend your Saturday dancing to pop classics from Pixie Lott, Busted and slightly less cringe sets from Mystery Jets and Basement Jaxx. Expect nail art, graffiti workshops and boob chat at this festival raising money for CoppaFeel!, a charity raising awareness of breast cancer. House of Vans, £45, book ahead, 14 October
GANGLAND FILM FEST: Londoners love a gangster movie so much we've dedicated a whole festival to them. The Gangland London Film Festival screens some of London's greatest gangster films alongside Q&As from film specialists, crime authors and historians. Regent Street Cinema, various prices, book ahead, until 15 October
Sunday 15 October
URBAN FOREST WALK: Not all of us are lucky enough to pass exotic trees on our morning commute, but the people of Haggerston are. Join the aptly named Paul Wood for a morning of species spotting. Haggerston Overground station, £15, book ahead, 10.30am-noon
GANGSTERS, GELATO & GARIBALDI: If trees aren't your thing but Italian gangsters are, join this walk around Clerkenwell, detailing the history of London's Italian community. Chancery Lane tube station, £10, book ahead, 11am-12:30pm
LONDON HORROR FEST: For some people, October means Christmas present shopping, but for the rest of us it means Halloween costume shopping. If you're in the second group make sure you nab tickets for the London Horror Festival, one of London's largest live events dedicated to scaring the bejesus out of you. Old Red Lion Theatre Pub, £10, book ahead, until 4 November
Fun things to do with our friends and sponsor Funzing...
London is a city of incredible transformation. With structural remains that date back to ancient history still in existence, this unique walking tour takes in Lost London in all its former glory. From the Titanic booking office to the graveyards of man's best friend, you'll discover the weird and wonderful places that used to exist in the capital but are now only committed to memory. Using old photographs, newspaper cuttings and stories from the past, you'll be amazed at what has largely been written out of our history books... Get tickets
Whether you're a pre-grated cheddar sprinkler or mimolette fan, this cheesy walking tour will delight your senses. Starting off at a cheese counter in Mayfair that has been serving for more than 300 years, you'll tour the city's best dairy delights - including Fortnum & Mason, where the royals get their fix. Get tickets
Take to the waters and glide about in this beginner paddleboarding session. By the end of it, you'll be standing up and paddling solo, and there's plenty of help on hand to improve your technique. Change of clothes required. Get tickets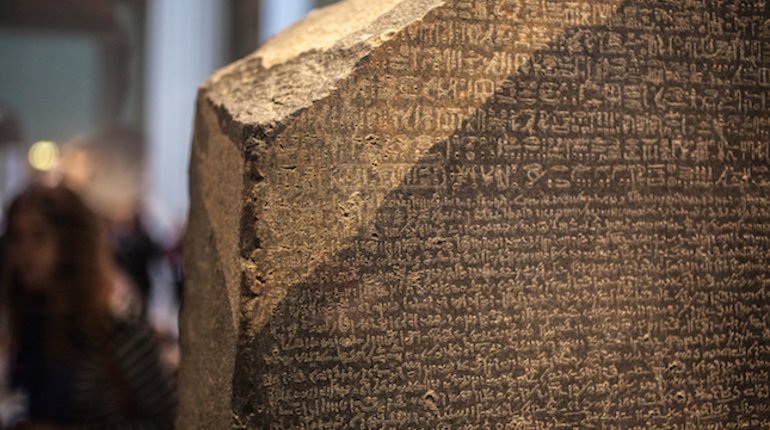 Track the journey of humanity through this tour around the British Museum. The tour aims to help you understand why the world is the way it is, and show how humans learned to question absolutely everything. Get tickets