Things to do this weekend is sponsored by The French Property Exhibition.
All weekend
THE HANDMADE FAIR: Queen of crafting Kirstie Allsopp hosts three days of hands-on workshops on everything from willow weaving to calligraphy. There's plenty of artisan food available, too. Hampton Court Palace (Richmond), from £16, book ahead, 14-16 September
BRIXTON CITY FESTIVAL: It's radical entertainment, pop ups and sheds-galore at this south London arts festival. Theatre makers, musicians, spoken word artists will congregate at Ovalhouse and invite you into a free world of digital dialogue, love letters and performance. Ovalhouse (Brixton), free, just turn up, 14-16 September
CHUBBY CLOUD: Sink into the world's largest bean bag and gaze up at Rubens' breathtaking painted ceiling of Banqueting House at Anya Hindmarch's Fashion Week installation, Chubby Cloud. A whole host of familiar faces lead talks, bedtime tales, and guided meditation sessions across the weekend, including Claudia Winkleman, Victoria Sin, and Richard E Grant. Banqueting House (Westminster), £15, book ahead, 14-16 September
PECKHAM FESTIVAL: Celebrate the creative communities of SE15 at Peckham Festival, with three days of studio tours, arty workshops, guided walks, and musical performances for you to get involved in. Various venues around Peckham, free, just turn up, 14-16 September
BAFTA GURUS: Calling all cinephiles, TV addicts and budding film makers. Don't miss out on the chance to learn from BAFTA winners, industry experts, and rising stars. Events range from a Peaky Blinders production lab to a Love Island masterclass at this weekend of industry insight. Fair warning: tickets are selling fast. BAFTA (Piccadilly), £6 per event, book ahead, 15-16 September
DINOSAUR DAYS: A rare chance to get onto Crystal Palace's dinosaur island. While sadly devoid of Jeff Goldblum, Laura Dern and other Jurassic Park staples, there's plenty of dino-themed fun for you to get involved in. Check out Crystal Palace Park's 162 year old dinosaur sculptures on a guided tour, enjoy Iguanodon street theatre, and hear all about the park's Paleo Planting Project. Crystal Palace Park, by donation, book ahead, 15-16 September
LONDON PODCAST FESTIVAL: A bit of a does-what-it-says-on-the-tin one, that's no less reason to head down to London Podcast Festival. See live recordings of your favourite pods, or attend a workshop if you're looking to get into podcasting yourself. Kings Place (King's Cross), various prices, book ahead, until 16 September
Saturday 15 September
ANIMATE TOWER BRIDGE: Take the kids to learn about one of London's most iconic landmarks and then create your own stop motion animation inspired by your favourite Tower Bridge tale — from low-flying planes, to buses making death-defying leaps across the open bridge, à la Spice World. Tower Bridge, £8.70 adults/£3.70 kids, just turn up, 10am-4pm
BERMONDSEY STREET FESTIVAL: Bermonsey's urban village fete offers loads of opportunities to support local businesses as traffic is shut down in favour of a street full of stalls, as well as live music, kids' entertainment, and a dog show. Bermondsey Street, free, just turn up, 11am-6pm
RICHARD HAMBLETON RETROSPECTIVE: Immerse yourself in the NYC street art scene of the 1980s at this exhibition dedicated to one of its foremost pioneers. Shadowman features over 60 original works and photos from the late Richard Hambleton, including many that have never been showcased before. Leake Street Arches (Waterloo), free, just turn up, 11am-6pm
HIDDEN RIVER FESTIVAL: Just a stone's throw from the Harringay Warehouse District you'll find an idyllic oasis teeming with wildlife in the form of the Woodberry Wetlands. Head over for a family-friendly community festival, featuring live music, treasure hunts, storytelling, and a silent disco. Redmond Community Centre, free, just turn up, 12pm-6pm
LOUD WOMEN FEST: 1 day, 2 stages, 20 loud women. The male-dominated nature of many mainstream festival line-ups have rightly been criticised of late, and Loud Women Fest offers a welcome antidote. Featured artists include Petrol Girls, Zand, The Menstrual Cramps, and many more. There's also food, zines, merch, and a WI cake stall. The Dome (Tufnell Park), £15, book ahead, 1pm-2am
CHIMNEYS & TUNNELS: Try not to strain your neck from all the time spent looking up and down on a walking tour of the chimneys and tunnels around Greenwich and Cutty Sark. From autocratic astronomers to mass hysteria, hear about the power, pollution and danger that characterises London's industrial past. Begins at Greenwich Pier Ticket Office, £15, book ahead, 2.30pm-5pm
VIDEO ART FILM CLUB: With music videos, short documentaries, and animation, this mini-film festival has a bit of everything. Expect to see the finest experimental moving image work around. Leyden Gallery (Whitechapel), from £5, book ahead, 7pm-10.30pm
THE CANDLELIGHT CLUB: With the falling leaves comes a new season of Prohibition era debauchery courtesy of The Candlelight Club. Sneak off to the secret speakeasy for a night of live jazz age hits, cabaret, and 1920s glamour. A secret ballroom (Leyton), £25, book ahead, 7pm-12am
---
Sponsor message
All you need to know about buying property in France, all in one place
In the market for a holiday home? Or perhaps you're considering a permanent move across the channel, and need a helping hand? Whatever your raison d'être for eyeing up property in France, this everything-you-need-to-know event will help you make a success of it.
The French Property Exhibition, coming to Olympia London on 15-16 September, gives you the chance to browse from thousands of properties for sale, and discuss your plans with the experts. The thorough seminar programme runs all day, detailing every aspect of the buying process — from picking out your ideal home, understanding the French tax and legal system.
Whichever region you're interested in, and whatever your budget, it's the ideal place to plan out your investment and make that dream a reality. It's completely free to get in, and you can register for fast-track entry here.
---
Sunday 16 September
BECKENHAM MARKET: It's the last monthly market of the season in the grounds of Beckenham Place Park's stunning Georgian mansion. Head down south for art, street food, and other goodies from London-based independent traders. Beckenham Place Park, free entry, just turn up, 10am-3pm
EAST LONDON KILO SALE: Wardrobe looking a bit bare? How does a whole kilo of new clothes for just £15 sound? The Vintage Kilo Sale returns to an East End boxing hall with rails of vintage stock. You can also pay by individual item weight if you don't fancy committing to a huge haul. York Hall (Bethnal Green), £3, book ahead, 10am-4pm
SECRET GARDEN WANDERING: Explore an ivory-strewn church yard, an old burial ground, and a tiny hidden jungle on a guided amble through London's secret gardens. Don't forget your camera. Meet at Monument, £10, book ahead, 11am-2pm
TAPES FROM THE FREUD MUSEUM: Explore the temporality of remembering and forgetting through audio visual art tapes at the Freud Museum. Students from Goldsmiths' Transculutural Memory Course have used the famous psychoanalyst's writing to explore the intersection of memory, philosophy, pyschoanalysis, race, and colonialism. Freud Museum London (West Hampstead), £9 (included in museum admission), just turn up, 12pm-5pm
LONDONIST BEER PARTY: We've been banging on about our new beer for a while now (see us making it here), and it finally launches today. Join us at Fourpure Brewery for the launch party. Your ticket gets you entry, an afternoon of live music, plus a four pack of the limited edition beer to take home with you. £10, book ahead, noon-8pm
SHARDLAKE'S CITY: Here's one for the Tudor scholars. Relive Matthew Shardlake's life and adventures, as dramatised in the books of C.J. Sansom, on a guided walk. Email paula.cooze@btinternet.com to book. Begins at Temple underground station, £15, book ahead, 2pm-4pm
TRAINS, DRAINS AND REMAINS: Discover the history that lies beneath your feet on a guided walk that takes you though the site of an ancient monastery, a lost river, and the first deep level tube station. Begins at Blackfriars underground station, £12, book ahead, 2.30pm-4.30pm
THE PINK POUND: Explore the relationship between LGBTQ people and consumer capitalism with Queer History lecturer Dr Justin Bengry. Drawing from sources as diverse as early men's magazines and parliamentary papers, he asks who has benefited from commercial interest in homosexuality, interrogating the so-called pink pound. Conway Hall (Holborn), £9, book ahead, 3pm-4pm
OPERA AT SUNSET: What do you get when you plonk a super-talented soprano in a Grade II listed Jacobean walled garden, hand you a glass of prosecco and wait for the sun to set? A truly divine evening at Forty Hall, that's what. Forty Hall (Enfield), £15, book ahead, 6.45pm
CAJ COLLAB: The concept behind Caj Collab is intriguing — two artists from completely different disciplines are invited to perform together. But there's a catch; they have less than one full day to come up with their act, which they must perform the same evening. Tonight it's the turn of performance artist Akeim Toussaint Buck and writer Jemima Foxtrot. Poplar Union (Tower Hamlets), £9, book ahead, 7.30pm-8.30pm
Fun things to do with our friends and sponsor Funzing...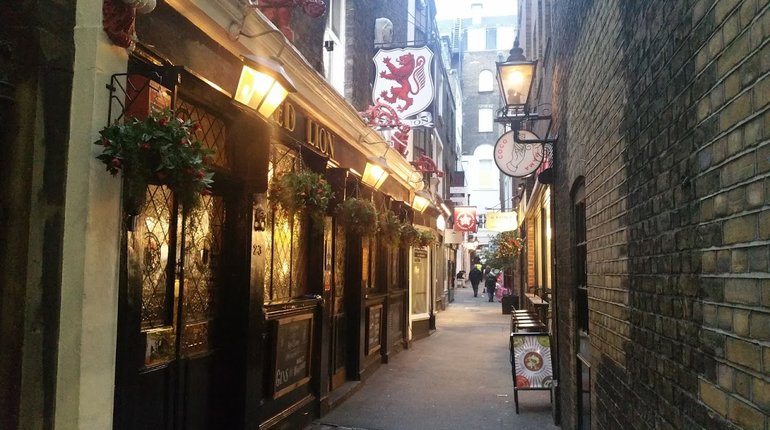 London is a city of incredible transformation. With structural remains that date back to ancient history still in existence, this unique walking tour takes in Lost London in all its former glory. From the Titanic booking office to the graveyards of man's best friend, you'll discover the weird and wonderful places that used to exist in the capital but are now only committed to memory. Using old photographs, newspaper cuttings and stories from the past, you'll be amazed at what has largely been written out of our history books... Get tickets
Take to the waters and glide about in this beginner paddleboarding session. By the end of it, you'll be standing up and paddling solo, and there's plenty of help on hand to improve your technique. Change of clothes required. Get tickets
Whether you're a pre-grated cheddar sprinkler or mimolette fan, this cheesy walking tour will delight your senses. Starting off at a cheese counter in Mayfair that has been serving for more than 300 years, you'll tour the city's best dairy delights - including Fortnum & Mason, where the royals get their fix. Get tickets
Track the journey of humanity through this tour around the British Museum. The tour aims to help you understand why the world is the way it is, and show how humans learned to question absolutely everything. Get tickets