What we're reading
Things to do
GREEK WINE: If you like wine then chances are you'll probably like Greek wine. Come and wallow in two days of it at the London Greek Wine Festival, where there'll be talks, tastings and more tastings. West Handyside Canopy, £15, book ahead, noon-6pm, until 14 October
BLOOD: There's a ton of blood-themed events happening this October including a late at the Horniman Museum next week and this exhibition and blood-bag of events at Copeland Gallery, which looks at the life-giving power of blood. Copeland Gallery, free, just turn up, until 1 November
THE BODY ISSUE: The bodies in these photos have been manipulated through contemporary photography, film, digital media with surprising and fascinating results. Now Gallery, free, just turn up, until 12 November
DISAPPEARING WILDLIFE: Human activity is destroying the planet, but can it also be used to help via the technology now at our disposal? Find out at this talk suitable for ages 7+, which will hopefully leave you feeling optimistic. Royal Institution, £16, book ahead, 6pm-7.15pm
SCREAMFEST: For a truly terrifying cinema experience (particularly if you suffer from coulrophobia) don your best zombie clown outfit and do your best Thriller dance all the way to Rio Cinema, where you can settle in front of a freaky film with a cocktail in hand (two included in the price). Rio Cinema, £10, book ahead, 6.30pm
BANG SAID THE GUN: Get ready to shake your maracas, stomp your feet and generally be loud (in a supportive way) at this poetry event for people who don't like poetry. Leicester Square Theatre, £15+bf, book ahead, 7pm
PECKHAM STORIES: If you can't scare yourself silly on Friday the 13th then when can you? On this nighttime walk, hear horrific urban legends, appalling tales and live music from George Hoyle (not for those with a nervous disposition). Secret location, £6, book ahead, 7pm
FILMPOEM: These young filmmakers were tasked with transforming the latest National Poetry Competition winning poems into visual form. The results are screened tonight, followed by a lively discussion. The Poetry Cafe, £6, book ahead, 7.30pm
LIVING DEAD: The only club night we've heard of which pays homage to late artists, bands that have split and one hit wonders. It's a night peppered with tunes that'll have you glued to the dance floor all night long. Bloomsbury Bowl, £5, book ahead, 9pm-3am
SOHO AFTER DARK: In desperate need of a decent night out? See a live performance from band Headline (that's their name FYI) bringing some world class production to the small stage. 100 Wardour, £20, book ahead, 10pm-3am
Art review: The night is dark
Three female artists join forces to take on the night and its otherworldly qualities. Suzanne Moxhay creates scenes within derelict buildings through digital photography, which have a real painterly feel to them, while Simone Pellegrini offers tapestries inspired by ancient myths. The most eye-catching works are by Lucy Glendinning, who has created downright creepy feathered children. The night is dark and full of terrors. Nocturne at James Freeman Gallery, 354 Upper Street, N1 0PD. Until 29 October, free ★★★★☆ (Tuesday-Saturday) Tabish Khan
Food review: Wizarding good cocktails
The Booking Office bar in St Pancras has launched a Harry Potter themed cocktail menu — and it's every bit as magic as it sounds. The absolute highlight is the Butterscotch Brew (the non-copyright-infringing version of butterbeer), a warm, sweet and creamy rum concoction topped off with Butterscotch Angel Delight — we think we've found our new winter cocktail. We could happily drink our way through several of them in one sitting, but in the name of research, we press on through the menu. The Elixir of Love is a fruitier foil to the Butterscotch Brew, but we love the theatricality of the Camouflage Coupette, served in two vessels. It's a potent mix, containing absinthe — you've been warned — so worth lining your stomach with some of the bar snacks (the 'mini' fish and chips is a meal in itself, the chips the most satisfyingly crispy we've had anywhere). Our tip? Settle yourself in one of the bar's atmospheric nooks or crannies, stock up on bar snacks and drink your way through the menu. Finish off with a Minty Toad For The Road (the Hogwarts equivalent of an after dinner mint — rich, dark chocolate with a subtle minty tang) — it's an ideal place to hole up on a winter afternoon. Mystic Elixirs and Potions, The Booking Office, St Pancras Renaissance Hotel, Euston Road, NW1 2AR, Until February 2018 ★★★★★ Laura Reynolds
Theatre review: jaw-dropping acrobatics in a saloon
Jeannot Painchaud's company is among the best of the high-flying, action-packed circus trailblazers that seem to continuously pop up at London venues each month. Following on from last year's urban thrill-ride iD, the troupe is back evoking gasps and laughter with their latest show Saloon. Look out for daring leaps from the tops of the rickety western stage set or flips from a see-saw that truly made us turn our heads in fear. Mesmerising stunts are also showcased via the Chinese pole, Cyr Wheel and the Trapeze. Acrobatics aside, what makes this troupe so unique (and not to mention family friendly) is their comedic timing that involves free-wheeling, good-natured improv. Even if Westerns are not your thing, this show will get your feet stomp'n, hands clapp'n and heart a'beating. Saloon, Peacock Theatre, Portugal St, WC2A 2HT. Tickets from £15 - £42. Until 21 October ★★★★☆ Tiffany Pritchard
Good cause of the day: Whither would you go?
It's Shakespeare but not as you know it. This mixture of live theatre, video stories, projection and an original score is performed in response to modern-day refugee stories, with all profits going to UNHCR — the United Nations Refugee Agency. Harold Pinter Theatre, £50-£200, book ahead, 8pm, 22 October
Fun things to do with our friends and sponsor Funzing...
London is a city of incredible transformation. With structural remains that date back to ancient history still in existence, this unique walking tour takes in Lost London in all its former glory. From the Titanic booking office to the graveyards of man's best friend, you'll discover the weird and wonderful places that used to exist in the capital but are now only committed to memory. Using old photographs, newspaper cuttings and stories from the past, you'll be amazed at what has largely been written out of our history books... Get tickets
Whether you're a pre-grated cheddar sprinkler or mimolette fan, this cheesy walking tour will delight your senses. Starting off at a cheese counter in Mayfair that has been serving for more than 300 years, you'll tour the city's best dairy delights - including Fortnum & Mason, where the royals get their fix. Get tickets
Take to the waters and glide about in this beginner paddleboarding session. By the end of it, you'll be standing up and paddling solo, and there's plenty of help on hand to improve your technique. Change of clothes required. Get tickets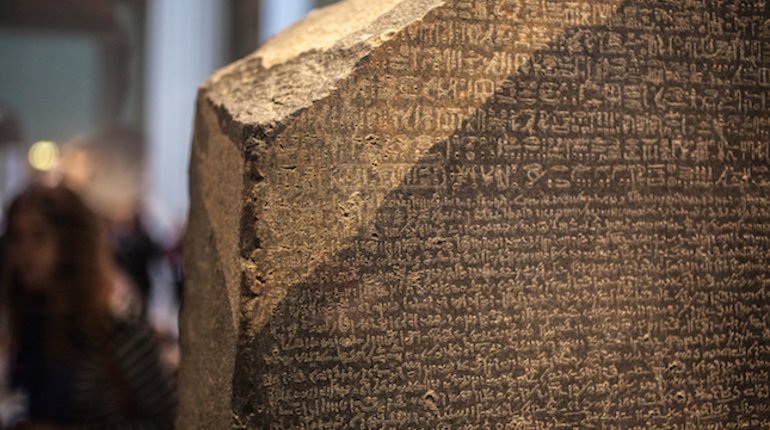 Track the journey of humanity through this tour around the British Museum. The tour aims to help you understand why the world is the way it is, and show how humans learned to question absolutely everything. Get tickets