Things to do today is sponsored by the British Museum.
What we're reading
Things to do
FRAGILE WORLD: Photographer Chris de Bode travelled to Burundi, Central African Republic and Niger, some of the poorest countries in the world, to witness and capture the effects of hunger and malnourishment. It's part of Concern Worldwide's Food In A Fragile World appeal, and the images are now on display. St Martin in the Fields, free entry, just turn up, until 30 October
RASH DASH: Described as a "feminist quest to smash the patriarchy", this Fringe First award-winning show about gender and language sees two women play two women playing two men, talking about masculinity and the patriarchy. Soho Theatre, various prices, book ahead, until 14 October, 7pm
CONSUMABLES: This play by Matthew Kyne Baskott is returning to the King's Head Theatre for a limited one week run following the shows critically acclaimed sell-out debut as part of the King's Head Theatre's 2017 Queer Season. It's about a struggling porn star who responds to an internet ad from his biggest fan. King's Head Theatre, £15/£18, book ahead, until 14 October
HOMELESS ART: Remember when 100 disposable cameras were given out to homeless people, who were encouraged to capture their London on film? See the results at this week-long exhibition, which coincides with World Homeless Day. A shortlist of 250 of the 2,500 photos was chosen, and whittled down to the winning images which are included in the 2018 calendar. Spitalfields Art Market, free, just turn up, until 15 October
DANCE CLASSES: Get yourself Halloween ready by learning the dances to the Time Warp and Thriller at these light hearted dance classes. Drink, Shop & Do (King's Cross), £15 per class, book ahead, 6.45pm/8.30pm
REEL LIFE: Get your short film fix and chat to the filmmakers afterwards at this screening of short, LGBT+ themed documentaries, hosted by Queerly Beloved. The Glory (Dalston), £5, book ahead, 7pm-9pm
UKULELE HOOTENANNY: Whether you're a musical prodigy or you've never played a note before, get your uke on and join in with renditions of old classics and newer pop songs. Queen of Hoxton (Shoreditch), free (£20 returnable deposit for ukulele), just turn up, 7pm
WATCH THE THRONE: So it turns out Kanye and Jay-Z have plans tonight but XOYO has drafted in the next best thing: A 16-piece orchestra will perform the 2011 collaborative album Watch the Throne, with audio-visual projections, a full light show and other surprises. XOYO, £16.88, book ahead, 7pm-10pm
EDITH PIAF TRIBUTE: Le Quecum Bar hosts a tribute evening to singer and actress Edith Piaf. French singer-songwriter Oriana Curls will be performing, supported by her three-piece band, in what we're promised will be an emotional evening. Le Quecum Bar, £12/£15, book ahead, 8pm-11pm
---
Sponsor message
History gets a 21st century makeover at the British Museum
Perfect for kids who love technology and adults who want it to be a shared experience, get hands-on with history at the Samsung Great Court Games. Part of a weekly programme of free digital games, workshops and activities for families in the Museum's Samsung Digital Discovery Centre, this event has been designed to bring history and culture to a 21st century audience, in a spectacular setting.
Act up in a game of charades, where one person takes control of a tablet and acts out how the pictured object would be used for, or join in with a WhatsApp game, completing challenges and sending photos back to the game master to win points. There are prizes to be won, too: each month, a winning family will receive a Samsung Galaxy S8 smartphone, and a runner-up will receive a Samsung Galaxy Tab A tablet.
The Samsung Great Court Games at the British Museum runs 11am-4pm on Saturday 28 October, Saturday 11 November and Saturday 9 December 2017. The event is completely free, and suitable for families with children 5+.
---
Art review: Swirling Chinese landscapes
Chinese artist Chu Teh-Chun combines both Eastern and Western styles in his abstract landscape paintings, so we get calligraphic and Romantic elements blending seamlessly in his richly coloured imagined lands. The works may be small but the expressive style pulls you into his landscapes, which are the strongest of the 45 works in the show. Chu Teh-Chun: Nature Lives with Me at Waddington Custot, 11 Cork Street, W1S 3LT. Until 4 November, free. ★★★☆☆ (Monday-Saturday) Tabish Khan
Food review: Club classics
This members' club throws open its Brasserie doors to non-members at weekends, and the excuse to stick our noses into an otherwise off-limits building feels like reason enough to visit. Turns out the Asian-influenced menu is a better reason still: our starters are spectacular and surprising, on a menu that sounds more conventional than it is. Brixham crab toast comes as a large shell crammed with meat, red chilli and lime juice to brighten the richness, and with tiny fragments of  toasted bread mixed through and balancing out the creamy texture. Crispy duck salad is studded with pomegranate sweetness and toasted sesame — a bit bitter, a bit smoky, a bit sharp. Main courses are more straight-bat: great ingredients prepared simply. The Dover sole is dusted with flour and grilled to perfect softness, and the wild mushrooms side is so packed with earthy flavour, they feel richer and meatier than the veal schnitzel main. The schnitzel's a bit on the tough side, but hey - it's being compared to London's softest Dover sole, and that's a difficult act to follow. Wine list, chocolate-tahini dessert and service all have that establishment-luxe thing going on, along with a bit more approachability than you might expect from members' club territory. The Brasserie at Devonshire Club, 5 Devonshire Square, EC2M 4YD ★★★★☆ Lydia Manch
Good cause of the day: Musicians against homelessness
Get yourself down to one of London's intimate, charismatic live music venues for this rock n roll charity gig. Last year Musicians Against Homelessness managed to raise £40,000 for homeless charity Crisis. Help them top that figure. Mau Mau Bar, free (donations encouraged), just turn up, 7pm-11pm
Fun things to do with our friends and sponsor Funzing...
London is a city of incredible transformation. With structural remains that date back to ancient history still in existence, this unique walking tour takes in Lost London in all its former glory. From the Titanic booking office to the graveyards of man's best friend, you'll discover the weird and wonderful places that used to exist in the capital but are now only committed to memory. Using old photographs, newspaper cuttings and stories from the past, you'll be amazed at what has largely been written out of our history books... Get tickets
Whether you're a pre-grated cheddar sprinkler or mimolette fan, this cheesy walking tour will delight your senses. Starting off at a cheese counter in Mayfair that has been serving for more than 300 years, you'll tour the city's best dairy delights - including Fortnum & Mason, where the royals get their fix. Get tickets
Take to the waters and glide about in this beginner paddleboarding session. By the end of it, you'll be standing up and paddling solo, and there's plenty of help on hand to improve your technique. Change of clothes required. Get tickets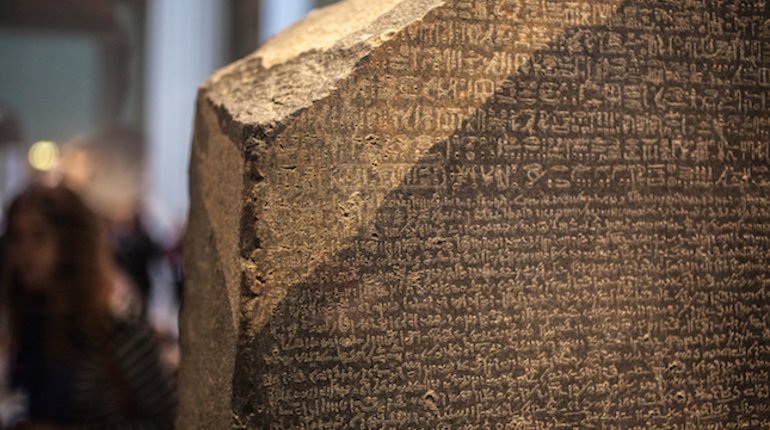 Track the journey of humanity through this tour around the British Museum. The tour aims to help you understand why the world is the way it is, and show how humans learned to question absolutely everything. Get tickets