This weekend is sponsored by Tantra.
All weekend
SOFAR SOUNDS GIGS: Sofar Sounds brings music lovers and musicians together in living rooms all over London. This weekend you can apply for tickets to attend secret gigs taking place in Hackney, Hampstead and Bermondsey. The venue and artist will be revealed the day before the event. Go on, add some spontaneity to your life. Various venues, various prices, book ahead, ongoing
NUMBER 90'S FOURTH BIRTHDAY: This canal-side bar is marking its fourth birthday with four days of banging tunes, creative workshops and of course plenty of booze. Saturday sees DJ Norman Jay bring his party bus to Hackney Wick while Sunday's entertainment is provided by a pop-up choir. Number 90, Hackney Wick, free, just turn up, 1-4 March
MADE IN NORTH KOREA: A woman smiles while displaying her consumer goods. Two men beam as they look into the distance with architectural plans in hand, imagining their new project. Where could this patriarchal utopia be? North Korea, of course. See posters, illustrations, stamps and other ephemera in this five-star show about NK. House of Illustration, £8.25, book ahead, until 13 May
CAULDRON COCKTAIL EXPERIENCE: The only magic-making this cocktail class is interested in is of the alcoholic cocktail variety. Guests get to wield a wand to mix up two elixirs, plus enjoy a Four Caldrons beer while you get your robes on. 5d Stoke Newington Rd, £30, book ahead, various times, every day except Monday until 30 June
Saturday 3 March
WELL STREET MARKET: The Well Street sisters are doin' it for themselves today, as all the market stalls are occupied by savvy women-led businesses and entrepreneurs to mark a century since some women gained the vote. Well Street, free, just turn up, 10am-4pm
CRAFTY FOX MARKET: After snazzy ceramics, witty cards, kidswear made out of recycled material and other handmade goodies? Head to the Crafty Fox Market, where you can also make a sparkly brooch with PupTart between 11am-2pm. Mercato Metropolitano, Elephant & Castle, free, just turn up, 11am-5pm
LONDON HOME SHOW: Make the house search that little bit easier by attending the London Home Show, a fair aimed at connecting first time buyers with affordable properties. Plus, it offers info on schemes such as Help to Buy and mortgage advice. Queen Elizabeth II Centre, Westminster, free, book ahead, 11am-5pm
WHO DUNNIT? Get your little one's imagination going with this digital detective comic making workshop to mark World Book Day. Discover Children's Story Centre, Stratford, £7, book ahead, 1pm-4pm
CLIMATE CHANGE AND US: Care about the impact us humans are having on the environment? With global temperatures looking to soar past the 1.5 degree target set by the Paris Agreement, this long overdue discussion asks how we can find sustainable solutions to climate change. Conway Hall, free, book ahead, 2pm
BIG FISH LITTLE FISH: Bring little ravers to this family-friendly party hosted by the Glasto performers Big Fish Little Fish. Expect bubbles, balloons, glitter cannons, a craft table and a parachute dance final. Amersham Arms, £10.96, book ahead, 2pm-4.30pm
POPMASTER LIVE: Got a head full of pointless pop trivia? Bring your one-hit wonder knowledge to this quiz night hosted by Ken Bruce, a faithful recreation of the popular BBC Radio 2 morning quiz show. 155 Bishopsgate, Liverpool Street, £25-£65, book ahead, 7pm
RA LATES: The Royal Academy is throwing a masque ball to coincide with its Charles I: King and Collector exhibition. Dig out your finest feather collars and dine in the banqueting hall while listening to political gossip, give the dance floor a twirl to Baroque Remix and try your hand at life drawing. Royal Academy, from £40 (final release), book ahead, 7pm-11.45pm
---
Sponsor message
The speed dating event that revolutionises your love life
Ever heard of Tantra? This fresh new take on speed dating made waves over in the US, and this March, it makes its London debut. The session starts with participants forming two circles facing each other, rotating round until everyone has met and come full circle.
The difference? A range of fun and flirty moments of guided connection to help you get acquainted with one-another. These relaxed and playful interactions — think partner yoga, improv, eye-gazing, dance — are perfect for breaking the ice, without all the awkward small-talk that goes with a traditional (read: boring) date.
Experience the magic for yourself and brush up on those relationship skills by signing up for Tantra Speed Date's debut London session on March 3. With up to 24 dates per session, who knows who you could end up sharing a moment with?
---
Sunday 4 March
CLASSICAL COFFEE MORNINGS: As well as wondering why you wasted your teenage years getting wasted instead of becoming a super talented multi-instrumentalist, this concert is just a nice chilled way to start your Sunday. Royal Albert Hall, £13, book ahead, 11am
GREEN AND PLEASANT ISLINGTON: Get your nature fix without leaving the city on this tour around Islington's green spaces. Lower Holloway, £9-£12, book ahead, 11am-12.30pm
HACKNEY RECORD FAIR: Dust off your old records and bring them for a professional cleaning or spend your Sunday unearthing new treasures at this record fair, while DJs spin tunes throughout the day. Epic Dalston, £2, just turn up, 11am-6pm
MARCH4WOMEN: While we celebrate a century since the first women went to the polls, there's still plenty to march for. The walk ends with a rally at Trafalgar Square hosted by Sue Perkins with speeches from Helen Pankhurst and Bianca Jagger. Raise those placards high ladies (and gents). Central London, free, just turn up, noon
SUNDAY SWISH: Spring clean your wardrobe and bring your unloved items to this clothes swish, where you'll hopefully pick up something you will wear. There will also be handmade goodies, vegan snacks, a pop-up hair salon, a raffle and a bar if you want to make an evening of it. Walthamstow Trades Hall, £5 swish, just turn up, noon-4pm
SUNDAY JAM: Sustainable canal-side venue Grow will be laying on the ultimate hangover cure: a Slow Fire Sunday roast cooked with ingredients sourced from the Grow garden (with nut roast option for the veggies). Stick around for reggae jams from 6pm. Grow, Hackney Wick, free entry, food served noon-6pm
MAKER NOT MUSE: Fed up of seeing art exhibitions dominated by men? Find out about the female artists in the Foundling collection in the first of these talks coinciding with the 2018 centenary of women's suffrage. Foundling Museum, free with museum admission, book ahead, 3pm
SCENTED CANDLE MAKING: With Mother's Day sneaking up on us (11 March FYI), this scented candle making and flower arranging workshop could provide the perfect present opportunity. Thank us later. The Boutique, Wandsworth, £56, book ahead, 3pm-5.30pm
WELCOME TO WONDERLAND: North London rapper, Little Simz, has laid on an entire day of live music, art and food as part of Rising Festival. As well as hearing from exciting young artists across three stages there will be a live visual art experience in the aptly named Shroom Room and a talk with actor Riz Ahmed and broadcaster Reggie Yates. The Roundhouse, Camden, £25, book ahead, 1pm-11pm
Fun things to do with our friends and sponsor Funzing...
London is a city of incredible transformation. With structural remains that date back to ancient history still in existence, this unique walking tour takes in Lost London in all its former glory. From the Titanic booking office to the graveyards of man's best friend, you'll discover the weird and wonderful places that used to exist in the capital but are now only committed to memory. Using old photographs, newspaper cuttings and stories from the past, you'll be amazed at what has largely been written out of our history books... Get tickets
Take to the waters and glide about in this beginner paddleboarding session. By the end of it, you'll be standing up and paddling solo, and there's plenty of help on hand to improve your technique. Change of clothes required. Get tickets
Whether you're a pre-grated cheddar sprinkler or mimolette fan, this cheesy walking tour will delight your senses. Starting off at a cheese counter in Mayfair that has been serving for more than 300 years, you'll tour the city's best dairy delights - including Fortnum & Mason, where the royals get their fix. Get tickets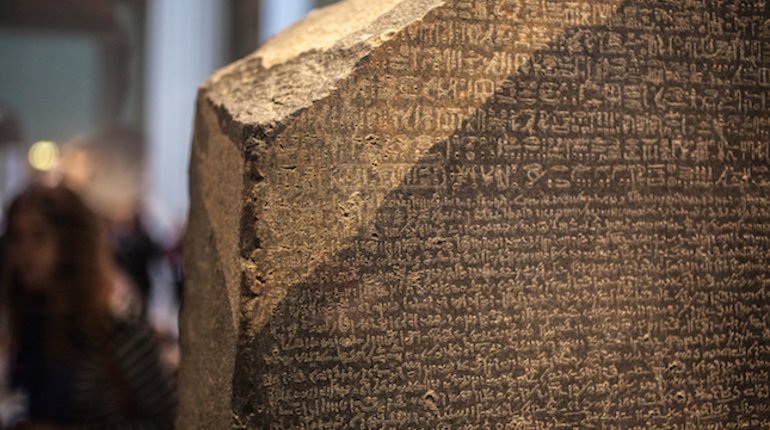 Track the journey of humanity through this tour around the British Museum. The tour aims to help you understand why the world is the way it is, and show how humans learned to question absolutely everything. Get tickets